Why you should always back up your work, and ways to do it
It comes a time in every translator's life, when they have to deal with the unbearable restarts for new updates to be installed in their computer happening mid-work, or with the never-ending fear of the following dreadful message that could pop up at any -unsuspected- time:
at which point you become aware that you are mid-deadline, having completed more than half of your project due tomorrow, or -worst case scenario- today, and you are about to freak out, when suddenly you come to realise
YOU FORGOT TO BACKUP YOUR WORK
and you look something like this
Just like your computer, you are now dead inside and you have given up all hope, every dream, every wish to carry on working. All you can think about is what you lost, your work, your time, your money, the best years of your life, just because you relied on a machine. The only thing that pops into your head is nothing else but the question: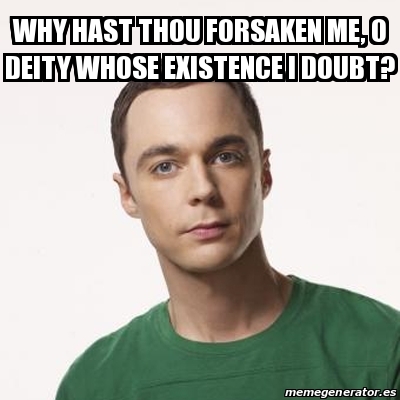 via memegenerator.es
Well, I imagine some, if not most, of you have experienced this horror (I know I have), but there is no point in beating yourself up, wondering what would have been. However, it is the best time to, firstly, contact your PM and let them know ASAP (and preferably via phone) that your computer is dead, and then to see what you can salvage, if you start working with your old, long not updated computer, hopefully being able to deliver the project before the end of the deadline. Good luck there!
Once you've made it and delivered your work in due time, this should be the moment to re-evaluate your processes and ensure that such incidents will not disrupt your workflow in the future, or ever again for that matter. It is high time that you implemented the necessary backup operations to your line of work, in order to make your life easier and your work safer, and to be able to shift workstations without having to depend entirely on the one computer (whether that is your laptop or your desktop).
Backup processes, just like project management, vendor management, CRM and other business-related processes, must be one of the first things to keep in mind when setting up your business, because computers tend to get a bit untrustworthy as time goes by, especially due to wear and tear. Actually, to be honest, as months go by (depending also on the use – yeah, that's a thing as well).
So, which backup systems should you implement in your workflow?
A fair question, based entirely on your requirements and expectations. All options come with their pros and cons, but, in any case, backing up your work is what you should always live by.
1. External hard drive
The most common and secure way to do your backup is the old, but reliable, way: deploying an external hard drive, always connected to your computer, so that you can have access to it at all times. Making sure that your files are constantly stored on (several) external storage devices ensures that, even if your computer decides to go AWOL on you out of the blue and leave you hanging, it won't be the end of the world.
2. USB/Flash drive
I can say for sure, from my own experience, that to this very day I haven't met a single person who doesn't have a USB drive available at all times: on their keychain, in their backpack, on their office desk, or in their pocket. If investing in an external hard drive isn't a priority for you –although it should–, a USB drive is the easiest, and admittedly cheapest, solution for those who just want to make sure that the project they're currently working on will be delivered on time, especially when technology betrays you at the most unexpected of times: when the deadline is right around the corner.
3. Cloud-based solutions
As the years went by, cloud-based solutions have become even more popular among users for many reasons: convenience, availability, options, mobility. Therefore, they are also most commonly used by translators all over the world, especially for those considering themselves as digital nomads, always being on the move. Having your files with you on the go is the first and most important prerequisite, but cloud-based solutions are also suitable for those who don't move around that much and would like to use something light on their desktop computer for securing their work as best as possible, without losing anything.
Solutions, such as Dropbox, Google Drive, or Box, enable also connectivity among peers and sharing with colleagues is no longer considered a daunting task, but has turned into a way of reducing turnaround times, enabling simultaneous collaboration and ensuring constant access to your work wherever you are and whenever you want.
Of course, in a GDPR-centred (business) world, some of these options might not be ideal or compliant enough for storing files with personal data in them. If you do so, make sure that your data and files are properly encrypted, can be at any time accessible by you, and that no third-party apps can gain access to your account, so that you do not have to worry about something falling into the wrong hands.
In this case, you can always find some alternative options. Several websites offer some expert reviews and comparisons on different tech solutions, from cloud storage and online backup to note taking apps and project management software (but, unfortunately, not the translation-related project management software). Once you've located the cloud storage or online backup solution that best suits your needs and expectations (and is compliant with the EU legislation on data protection), you are good to go.
[Quick note by the author: if you deal with projects containing personal data on a regular basis, it is advisable to consider using one of the previous options for offline storage, in order to have peace of mind.]
4. NAS / File servers
Although it seems like a too techy option for any standard translator, this is, nevertheless, the ideal solution for those who are constantly on the go and want to have access to their files, literally, everywhere. An NAS (Network Attached Storage) system takes file storage to the next level, giving the possibility to users not just to store data, but also to create a share point for collaboration among colleagues found at the same location or scattered all over the world.
You may think that it is too difficult, or a bit farfetched. As your business gets, however, bigger and more demanding, you'll see that simple storage systems might become obsolete. Even if you're not considered tech-savvy enough, once you've purchased the necessary equipment, it should only take some time to read the instructions through, get the system up and running in no time, and this way make sure that your data don't get lost, are kept safe in one place, and collaboration with colleagues from anywhere becomes possible and easier.
You don't have to wait for disaster to strike, in order to have backup measures implemented in your day-to-day business operations. Trust me, nothing is worse than living constantly in fear of losing everything you've striven for throughout your years as a professional, since machines can be as unpredictable as a child freaking out due to sugar rush. Dealing with big-scale projects consisting of thousands of words and heavy workloads without any backup whatsoever running in the background, you are definitely looking for trouble and can be considered a glutton for punishment…
---
About the author:
Spyros Balesias graduated from the Department of Foreign Languages, Translation and Interpreting in 2016. He was born and raised in Preveza, but he prefers the upbeat environment of bigger cities, although living in Corfu for the time being. He works as a translator of legal and financial texts, he loves content writing both professionally and for his own amusement, and he is currently interested in forensic translation. He speaks English, German, and he is making progress with Spanish. Last but not least, he enjoys translation, but keeps a low profile about this! You can find him on LinkedIn or you can send him an e-mail.